UPS DCP 650VA LINE INTERACTIVE

Product Description, Features and Technical Details :


Model : DCP 650VA
Intelligent CPU Controlled
Wide Input Range (220V+25%)
Full Protection against Over Voltage / Low Voltage
Description:
DCP 650VA UPS is ideally suited for personal computers and peripheral equipment use with the same. Although small & compact, the 650 VA consists of a host of features.

PRODUCT FEATURES:
650VA/ 390W
Intelligent CPU Controlled
Wide input range (220V ± 25%)
Fully AVR
Cold start Available
Strong generator compatibility Automatic Battery charging in ups off mode
Surge Protection
With strong electromagnetism compatibility, no electromagnetic interference to load
Full time EMI/RFI suppression Eliminates high frequency electrical noise that are harmful to the computer and the main case for data corrupting
 Full Protection against over voltage / low voltage Optional (DCP 650VA UPS with Software USB + Auto Shutdown software ) software that monitor and records input/output voltages battery status, load level.
SNMP+USB+RS-232 multiple communications for 1-3K models
Smart battery charger design to optimize battery performance
Specification

Rating

650VA

(W)

390W

Input Voltage (V)

160+10%

Output Frequency (Hz)

50Hz+10%

Transfer Time (ms)

<6ms

Voltage AVR Mode

230V AC Nominal

Output Waveform

Quasi Sine Wave (Battery) Sine Wave (Mains)

Battery Type

Sealed Lead Acid Maintenance Free

Recharge Time

90% Capacity After 5Hours

Backup

7-15 min ( depending on the connected Load)

General Protection

Under Voltage, Over Voltage, Spikes, Surge Su

Energy

320 Joules Instantaneous Response

Test Standard

IEEE587 Cat A&B

Noice Filtering

EMI/EFI Full time Suppression

Communication Interface

USB

Telephone Line

RJ11

Output Sockets

Universal Sockets






Panel Display

Mains On, Mains Full, Battery Low

Noice

<0 - 45 db (1Miter)

Temperature

0~40C

Hamidity

20~90% (Non - Condensing)

Dimension (L/xWxH),,

287 x 100 x 145

Weight (Kg)

5
Price Rs: 4500.00 3850.00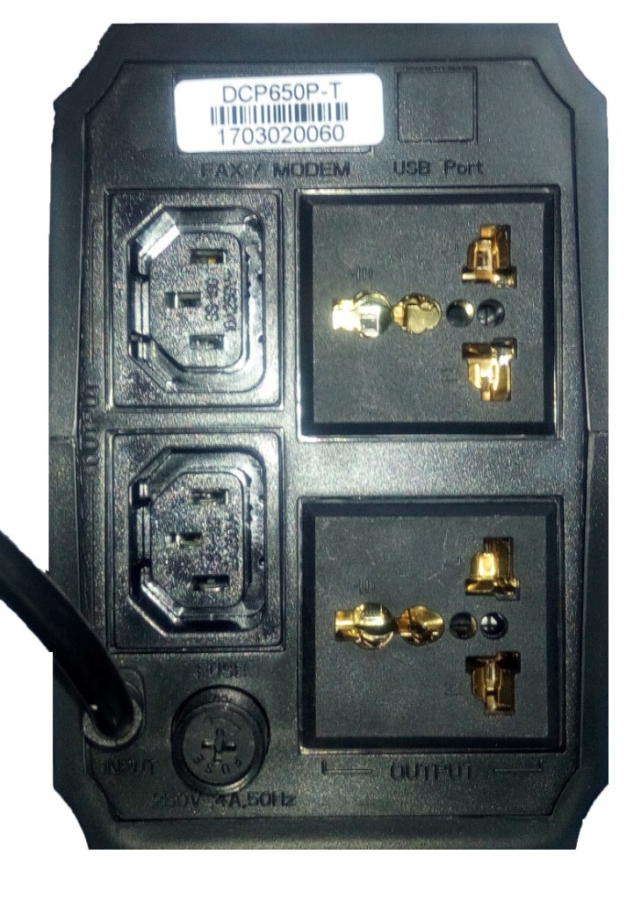 Tel:
077 8 39 39 25
075 4 100 545
E-mail:
info@LankaGadgetsHome.com
Showroom:
No:4B, (1st floor)
High Level Rd,
Kirulapone,
Colombo-06.
Opening Hours:
Monday to Saturday : 9.00 am to 6.00 pm
Closed on Sunday & Mercantile Holidays.
Bank Deposit/Transfer Payments:
Account Holder: Lanka Gadgets Home
Account Number: 061200110020300
Bank Name: Peoples Bank