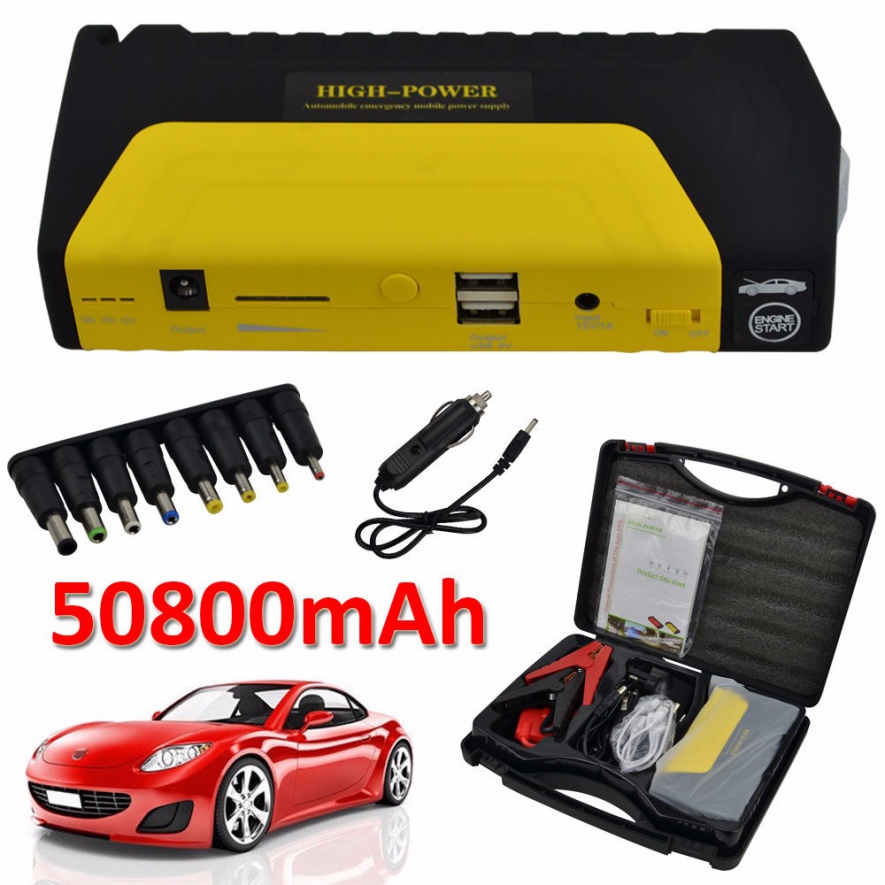 Car Jump Starter Pack 50800mAh Car Portable Battery Booster Charger with 2xUSB Power Bank / Laptop Charger / VIP LED / Hammer / Cutter / LED Torch

Product Description, Features and Technical Details :


Description:
High capacity 50800mAh, multi-function power battery charger .High efficiency of power conversion
Support emergency starting of 12V car, compatible with charging and discharging of branded cell phones, PSP, MP3/MP4, laptop, PDA, notebooks, car refrigerator and so on
Power off automatically when there is no load or charging is complete
3- 4 hours or more full charging of iPhone/Android or any mobile phone
Approx 20 times starting a vehicle when fully charged
Power charge of this device will remain 1~2 months without recharging
Battery can be charged at home using a wall charger or inside the vehicle using the cigarette lighter adapter.
Usage: outdoor, travel, camping, exploration and expedition, vehicles
4 lighting modes: strong light, flash, SOS, warning light
Multiple safety protection design.

Specifications:
LED illumination light
12V / 16V / 19V voltage output indicator lights
Output: 12V / 16V / 19V --- 2A / 3A / 3.5A
USB 5V / 2A output
Capacity: 50800mAh
Input: 15V / 1A charge input
Size: 165*79*40mm
Charging time: 2~3 hours

How To Use:
1. Select the appropriate voltage and connector for the electronic device to charge / power supply
2. Press the switch to start charging when your device connected with the power bank. If you unplug the cable, auto-sleep will start in one minute.
3. Five LED lights will flash circularly during the charging and all lights will keep bright when your device is full-charged.
4. During charging for your device, LED lights indicate the balance power of the built-in battery. Four lights indicate 80% balance, three lights indicate 60% balance, two lights indicate 40% balance and one light indicates 20% balance.The built-in battery is empty when all LED lights start to flash.
5. Press the switch five seconds to start If you want to use LED for illumination and select the status (light, SOS, close) by pressing the switch to transform.
6. Store the product in a cool and dry place and away direct sunlight.
Cautions:
To avoid from accidents, make sure note the following cautions:
1. Take off the main unit within 30 seconds after starting the car.
2. Don't clip the two terminals at the same end on the battery.
3. Don't Disassemble the unit.
Package Included:
1 x Power bank battery 50800mAh
1 x Notebook adapter cable
8 x Notebook connector
1 x Cellphone Charger connector
1 x UK Adapter
1 x Car charger
1 x Jumper cable with battery clamps
1 x Carrying bag
1 x User manual
About Size:
All dimensions are measured by hand, there may be 1-3cm deviations.
Size measurement by different kinds of dress or brands might be differences, Please kindly refer to our size charts and description carefully before buying. We suggest you compare the size with the clothes you currently have before buying. For any question, please contact us directly.
About Color:
Pictures for reference were taken from actual products in our stock.
Due to the the inevitable differences in monitor type and setting, Colors on your computer monitor may slightly differ from actual product colors.
Price Rs: 12900.00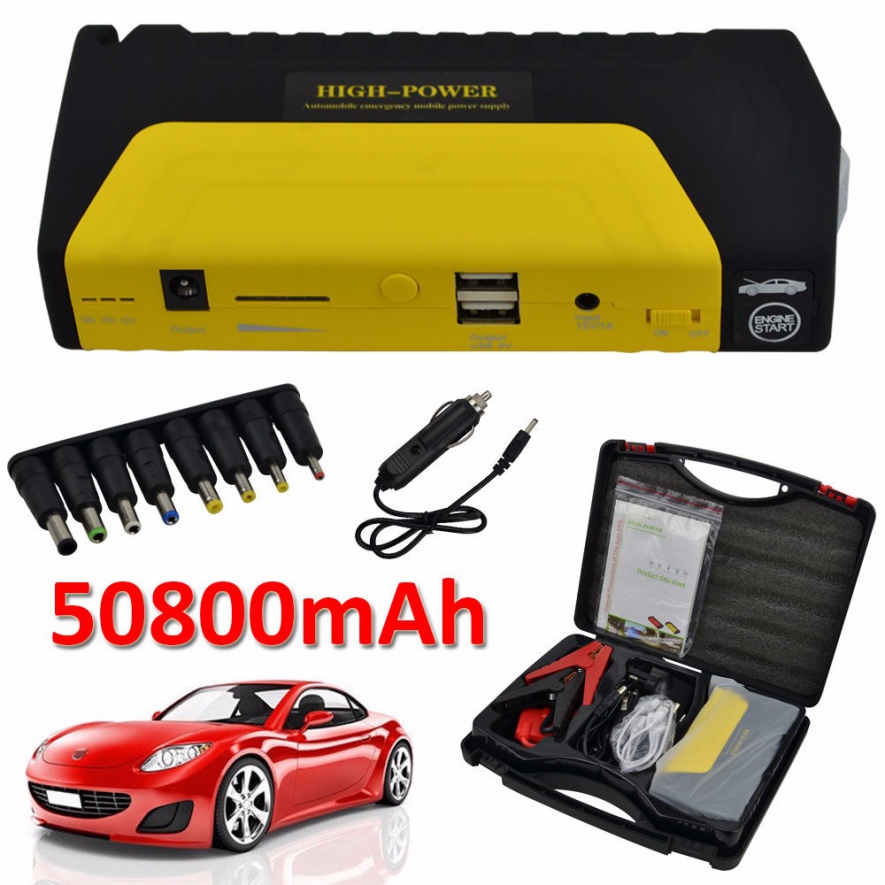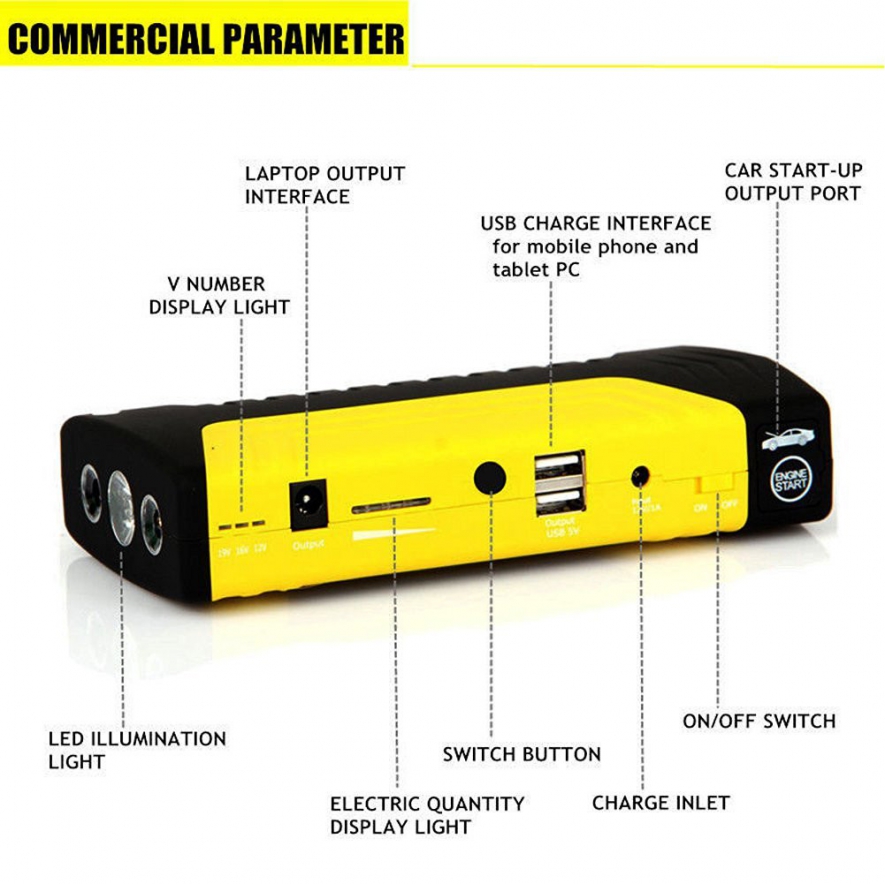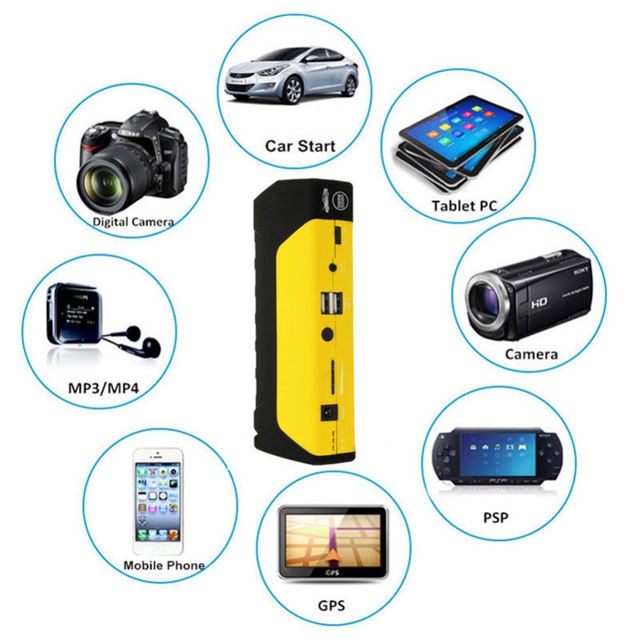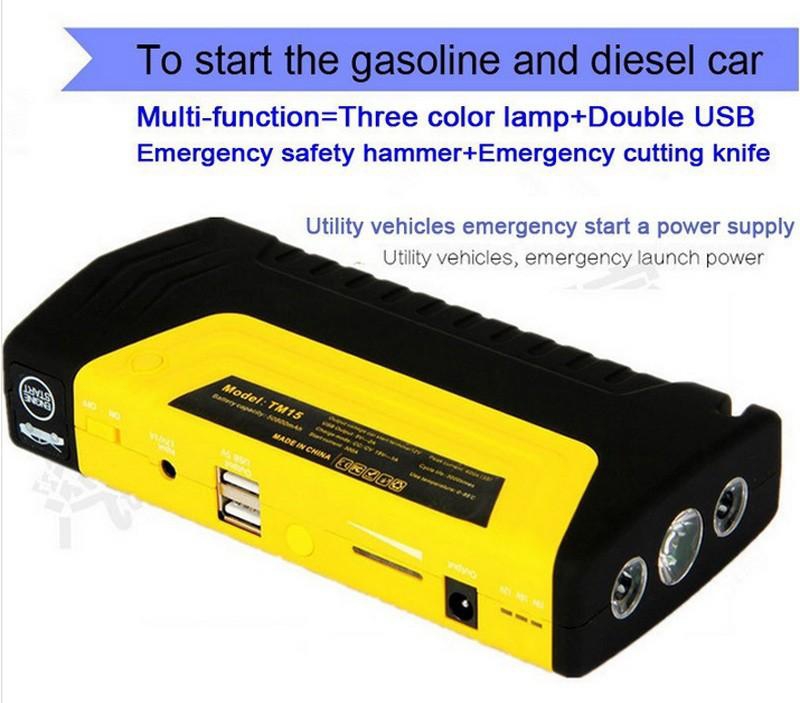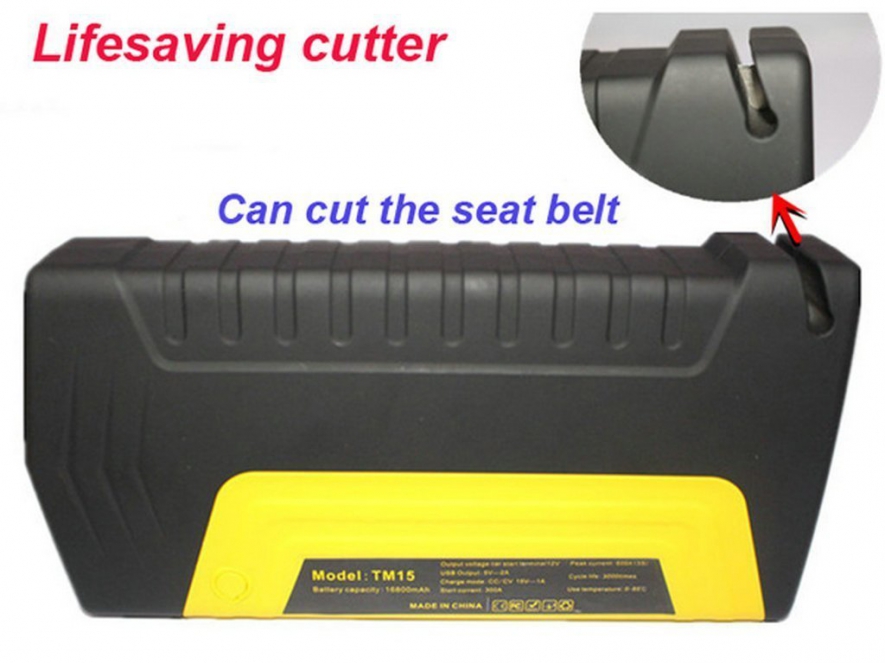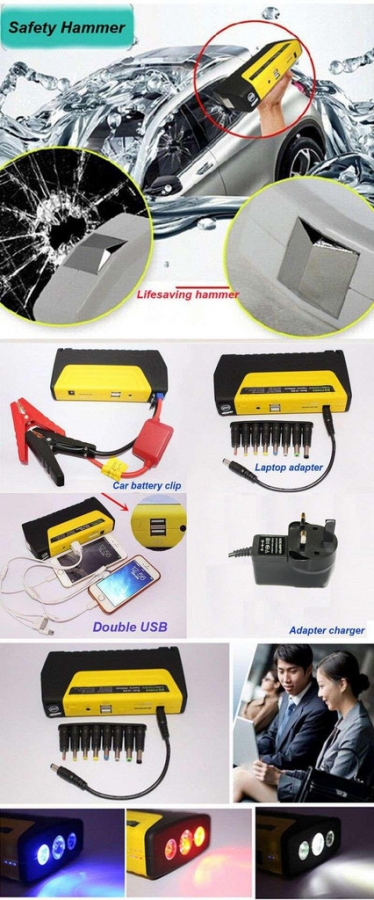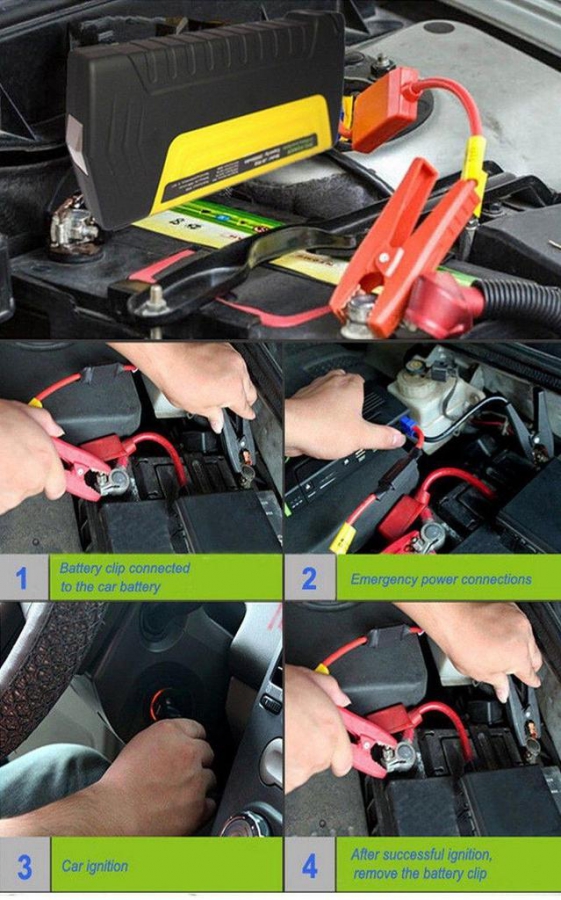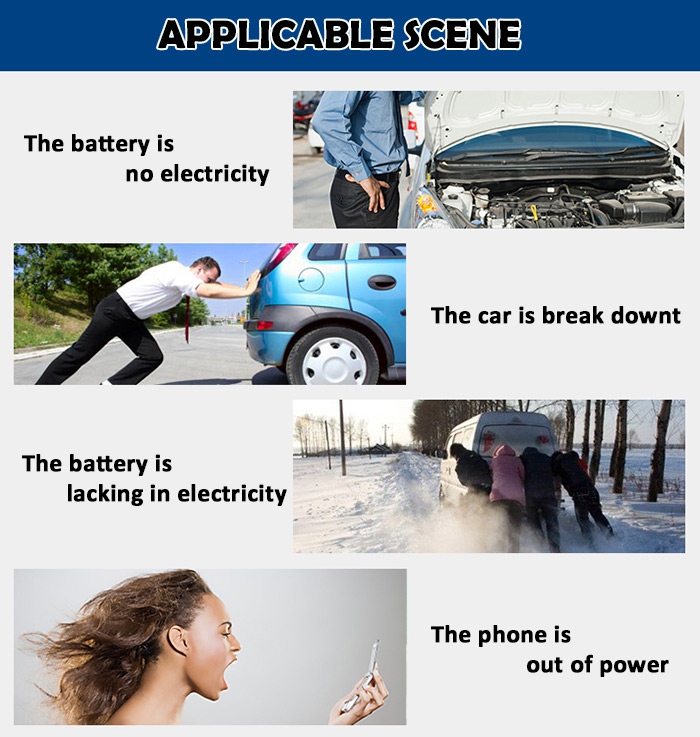 Tel:
077 8 39 39 25
075 4 100 545
E-mail:
info@LankaGadgetsHome.com
Showroom:
No:4B, (1st floor)
High Level Rd,
Kirulapone,
Colombo-06.
Opening Hours:
Monday to Saturday : 9.00 am to 6.00 pm
Closed on Sunday & Mercantile Holidays.
Bank Deposit/Transfer Payments:
Account Holder: Lanka Gadgets Home
Account Number: 061200110020300
Bank Name: Peoples Bank